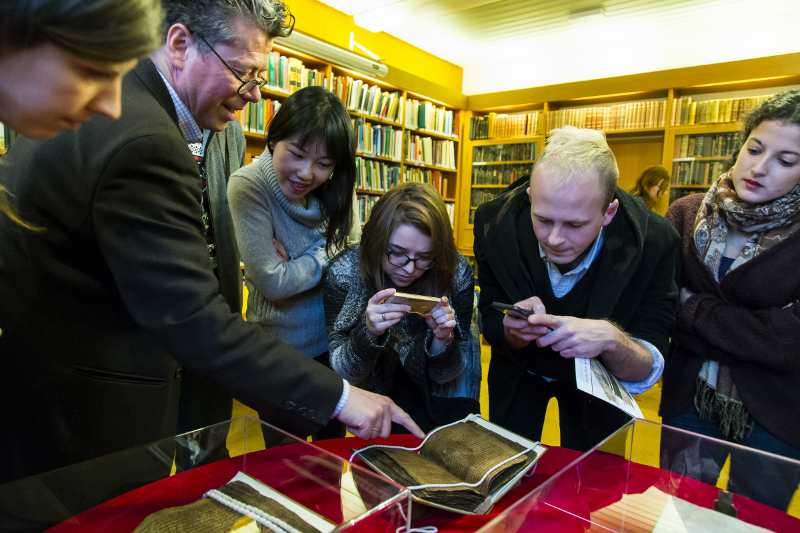 This international two-year Nordic Master's Program offers an interdisciplinary approach to Viking and Medieval Scandinavia by drawing on expertise in the fields of Norse literature (including the Eddas and sagas), linguistics, history, textual criticism, palaeography, runology, folklore, religion, art and archaeology at four different Nordic universities, Aarhus University, University of Copenhagen, and University of Oslo, and associated research institutes. Two of these, the Árni Magnússon Institute for Icelandic Studies in Iceland and the Arnamagnæan Institute at the University of Copenhagen, share custody of the largest single collection of Icelandic medieval manuscripts in the world, the Árni Magnússon Collection that was inscribed on the UNESCO Memory of the World Register in 2009.
Objectives
The programme aims to provide thorough training in Old Norse language, literature, and history, as well as helping to develop the skills necessary to work with primary sources such as medieval Norse manuscripts, runic inscriptions, and other artifacts. It will introduce the students to a wide range of theoretical approaches in the field of Viking and medieval Norse studies.
Structure
Viking and Medieval Norse Studies is an international two-year graduate programme (120 ECTS credits) leading to a master's degree. The first two semesters take place at the University of Iceland in Reykjavík. In the third semester, the students can choose between courses at Aarhus University, Denmark, the University of Copenhagen, Denmark, or the University of Oslo, Norway. The fourth and final semester is reserved for writing a master's thesis at the University of Iceland or the University of Oslo. Learn more about the structure of the programme…
For whom?
The Viking and Medieval Norse Studies programme welcomes qualified students with different academic backgrounds from all over the world. Our current and former students form a diverse and international group of talented people from countries including Brazil, Bulgaria, Canada, China, Columbia, Czech Republic, Finland, France, Germany, Hungary, Japan, Israel, Lebanon, the Netherlands, Norway, Ukraine, Poland, Puerto Rico, Russia, Slovenia, Spain, Switzerland, the United States, and the United Kingdom, with university degrees in, for instance, Anglo-Saxon, Norse and Celtic, anthropology, archaeology, art history, comparative literature, English, English literature, classics, German, German literature, history, ancient history, medieval history, medieval studies, music history, philosophy, religious studies, Scandinavian languages, Scandinavian literature, or Scandinavian studies. Learn more about our students …
The language of instruction is English.
Prior knowledge of Old Icelandic/Old Norse is not required, but special emphasis is placed on developing skills in Old Icelandic in the first year through courses in Old Icelandic at introductory and intermediate levels.
Fees
There are no tuition fees charged in the Viking and Medieval Norse Studies programme. This applies equally to students of all nationalities. The University of Iceland charges an annual registration fee of ISK 75,000 (approximately 530 EUR or 600 USD depending on the exchange rate). 
Applications
The application deadline is February 1st of every year. Please see our Entry Requirements and Application Requirements.
Questions?
We welcome your questions about the Viking and Medieval Norse Studies programme at oldnorse@hi.is.
More information - Viking and Medieval Norse Studies