Violence is a cancer in society and according to Icelandic National Police records, the numbers of acts of violence in Iceland increased by about 3% last year compared to the averages for 2016 and 2018. At the same time, the rate of sexual offences rose by just over 33%. This is clearly a cause for concern. However, police records do not tell the whole story about acts of violence committed here in Iceland, since not all incidents result in charges being brought. But is it possible to measure the financial value of being free from violence of any kind? Brynja Jónbjarnardóttir, researcher at the University of Iceland, has attempted to answer this question in her work on an international and interdisciplinary team of scientists led by Tinna Laufey Ásgeirsdóttir, professor of economics.
"In the study, we evaluate the financial damages suffered by an individual due to emotional violence, sexual violence and/or physical violence. The damages are assessed using an income support method that reveals how much an individual would need to be paid to compensate for the loss of wellbeing that results from certain kinds of violence," says Brynja. The research team she belongs to is called ConCIV and is looking into the financial damages caused by various diseases and other factors.  
We need a better analysis of the cost of violence
Brynja explains that scientists have lacked a detailed analysis of the cost of violence in Iceland. "By that I mean the intangible costs borne by victims of violence, e.g. due to suffering, but besides these there are also direct healthcare costs and possible loss of future earnings. A lot of previous research has focused on domestic violence perpetrated against women, but we wanted to look at violence in a broader context and include both sexes."
 
The international and interdisciplinary team ConCIV is researching the financial damages suffered by individuals due to various diseases and other factors. The team is led by Tinna Laufey Ásgeirsdóttir, professor of economics, pictured here along with Icelandic participants in the project. IMAGE / Kristinn Ingvarsson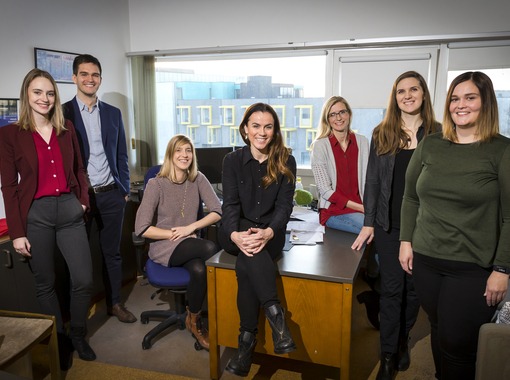 It is worth more to be free of emotional violence than physical violence
Brynja says that the findings of the research show that financial damages due to emotional violence are higher than damages due to physical or sexual violence. "The reasons for this are unclear, but it might be that emotional violence more often continues for longer than other kinds of violence, meaning that it involves a higher number of individual acts of violence." 
The ConCIV team's research is hugely valuable for society – according to Brynja, it is vital that all the costs of violence are evaluated, including the intangible costs affecting victims of violence due to suffering. "Research like this gives us a clearer impression of the total cost of violence and gives governments a better basis to evaluate the benefits of directing additional funding towards preventing violence. The findings may also be used to evaluate financial damages within the legal system."
Brynja explains that research like this increases knowledge and information within society, which can be used to improve infrastructure and government, to the benefit of all.