"The main challenges facing education systems all over the world are defined by increased mobility and cultural diversity. Policy making and research across national borders is particularly important when responding to international challenges such as these."
So says Berglind Rós Magnúsdóttir, associate professor at the University of Iceland School of Education, on her current research, which aims at exploring the circumstances of young immigrants or refugees with regard to democratic education and the development of civic awareness in three cities: Reykjavík, Oslo and London. 
The project, entitled I-PIC, is one of many led by Berglind Rós which focus on mapping and enhancing social justice in education in Iceland, with an emphasis on the concurrent influences of class, origin and sex.  Her colleagues on this new project are Ólafur Páll Jónsson, professor of philosophy at the University of Iceland, and Eva Harðardóttir, PhD student. Eva is an education specialist, upper secondary school teacher and former expert with UNICEF in Malawi.
"The I-PIC project involves looking at how schools can guide young people into participatory learning by giving them opportunities to express their point of view through their own photographs and interpretation of them. The experiences of their teachers, parents and peers will also be part of the project," says Eva Harðardóttir, who had the original idea for the project.  
Young refugees given a voice
Through this project, Eva has developed creative and participatory teaching methods, along with the spatial artist Tinna Ottesen. These methods aim at enabling young people to shine a light on their own experiences and realities in a school environment through photographs which they take themselves and analyse in collaboration with teachers and researchers. This is a comparative study of the circumstances of young people in three different education systems, but the purpose is also to develop critical and constructive teaching methods that tackle the distancing and even exclusion that can form between different linguistic and cultural groups. The research team emphasises that the project is also an important step in the development of new teaching and research methods at the intersection of art, scholarship and action. 
 
Ólafur Páll has attracted attention for his research in the philosophy of education. He explains that marginalised groups, such as young refugees, need to be given real consideration if concepts such as democratic participation, inclusion and civic awareness are to be anything other than meaningless buzzwords in national educational policy. 
"We hope that these methods prove effective for diverse student groups, where proficiency in the community language has not yet been acquired, and for groups who have hitherto not had a strong voice in our society," says Ólafur. 
Berglind Rós Magnúsdóttir, Ólafur Páll Jónsson and Eva Harðardóttir are working on a comparative study with their colleagues in Norway and Britain which aims at exploring the circumstances of young immigrants or refugees with regard to democratic education and the development of civic awareness in three cities: Reykjavík, Oslo and London. IMAGE/Kristinn Ingvarsson.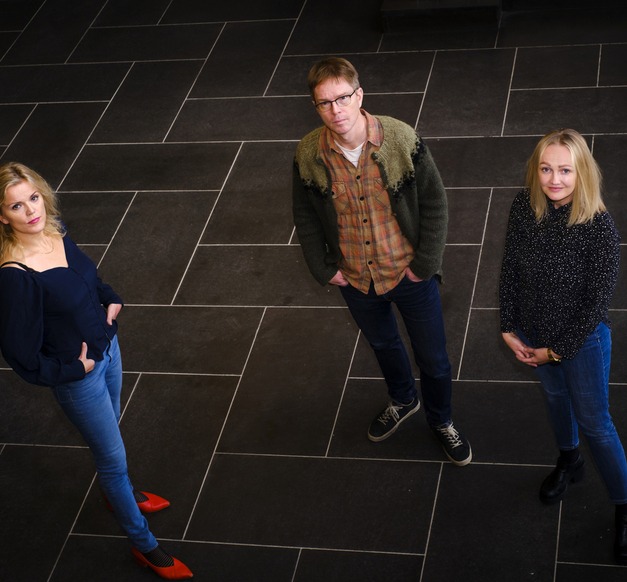 How do different education systems tackle the challenges?
There is no doubt that research is required into how young people of different nationalities manage in the complex reality of the world today. It makes sense to investigate the situation in three European cities with a high level of human mobility. Halla Hólmarsdóttir, senior lecturer at the University of Oslo, and Jo-Anne Dillabough, reader at the University of Cambridge, both academics with many years of research experience with marginalised young people in schools and wider society, are partners on the project.
"This collaboration increases the chances of finding solutions that can be used to further develop non-discriminatory school policies at the international level. The experiences of young refugees in Iceland, the UK and Norway are an important part of the democratic development of the societies in which they live. In the same vein, national education systems must take into consideration and work on the basis of diversity and international civic awareness, rather than limiting, ethnocentric ideas about participation," says Eva. 
Research with wide-ranging implications
The first research papers published about the project have revealed, for example, that there is a lack of clear policy on issues affecting young refugees and that many teachers feel helpless and poorly supported to handle cultural diversity in schools. Discourse among teachers and in official policy also reflects conventional and ethnocentric ideas about civic awareness, whereby the Icelandic language, Icelandic customs and traditions form the basis for pupils' participation at school. 
"We are not condemning these ideas," says Berglind Rós, "but we are trying to develop ideas and teaching tools in order to better respond to this major challenge. By understanding the situation of these young people who are marginalised in the education system, and seeking to give them an opportunity for meaningful participation, we will also gain a better understanding of the system as a whole and will be able to develop teaching and research methods that can help a much broader group."