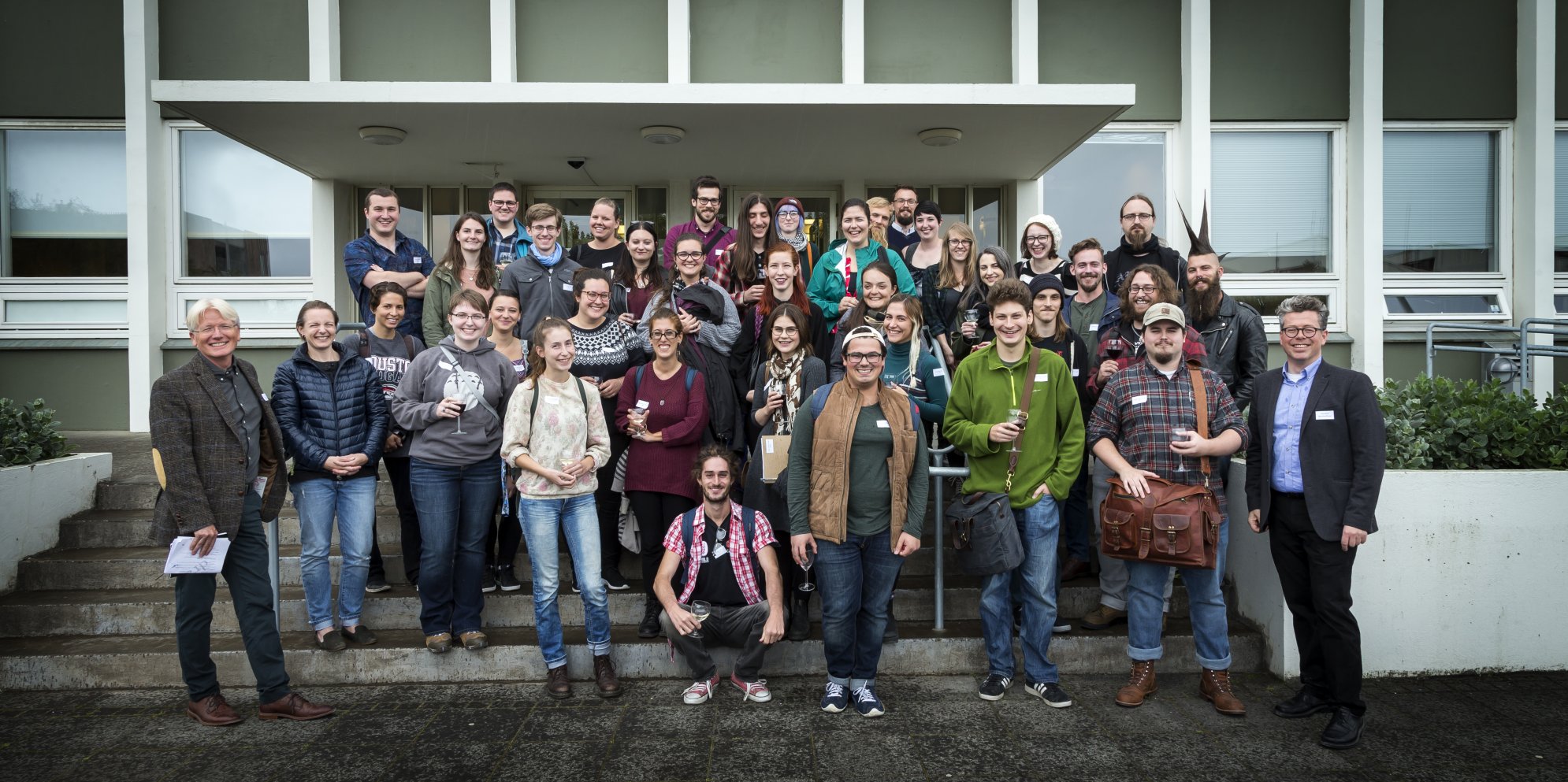 Orientation meeting August 25, 2017.
Adam Franklin Bierstedt (US)

Medieval Studies, BA, University of Chicago, 2017

As an undergraduate, I studied many aspects of Scandinavian history, from archaeological data to texts like Njáls saga, in isolation. Here, I hope to integrate that knowledge into a more coherent interdisciplinary foundation on which I can better study the importance of the sagas.

Barbara Laconi (Italy)

Modern Languages and Literature, BA, Università degli Studi di Trento, 2006
Philology and Literary Criticism, MA, Università degli Studi di Trento, 2009

My interests are focused on fornaldasögur, konungasögur, comparative literature, textual bibliography, and history, analysis and reception of texts (including manuscripts, editions, translations and reworkings). I look forward to acquiring an in-depth knowledge of Old Norse literature and language, in order to qualify for doctoral studies and be able to conduct worthwhile research in the field.

Campbell Elizabeth Grade  (US)

Anthropology/Sociology & Studio Arts, BA, Elmira College, 2017

During undergrad I studied Anthropology, Sociology, and Studio Arts. In my graduate studies, I aim to apply this knowledge to research secondary institutions such as religion and how it influenced practices, mainly art, during the Viking Age and into the Middle Ages.

Cassandra Ruiz (US)

History and English (Literature and Creative Writing), BA, University of Miami, 2016

Analyzing points of change within and between cultures are my interests. I hope to create a site to make my findings come to life as I have a mechanical engineering/motion pictures background. I would also like to analyze poems and runes since the magical aspect of words is indeed powerful.

Christian Lyons (US)

General Education, AA, St. Petersburg College, 2013
History, BA, University of South Florida, 2016

As an undergraduate, I focused on the early medieval period within Scandinavia. My dissertation for my Bachelors explored settlement of the Isle of Man by analyzing the known rune stones. I plan to continue with early Norse colonization or explore how traditional pre-Christian beliefs affected Icelanders after the Christianization of Iceland.

Dain Charles Swenson (US)

Anthropology, BA, Arizona State University, 2017

I studied Anthropology as an undergraduate, focusing on human origins and European archaeology. I studied abroad in England and Sweden, studying the archaeology of those nations. I look forward to doing the same here in Iceland pursuing my interest in the evolution of Iron Age Scandinavian tribes into the Vikings.

Eric William Blue (US)

Psychology, BS, University of Illinois at Urbana-Champaign, 2016

As an undergraduate, I concentrated on biopsychology and its implications in the development of human identity. I look forward to expanding this study into the development of identity on a personal and communal level in the Viking world through the oral traditions of the sagas and Nordic religion.

Giulia Mancini (Italy)

Lingue Culture Letterature e Traduzioni, BA, Università degli Studi di Roma "La Sapienza", 2016

During my undergraduate studies, I fell in love with Germanic philology and comparative literature. During VMN, I would like to pick up those subjects again, and learn more about the Old Norse religion and Old Norse, Icelandic and Arthurian literature, especially in relation to the passage from orality to literacy.

Gregory Callahan Gaines (US)

History and Philosophy, BA, Clark University, 2015
History, MA, Clark University, 2016

My background is in early modern Swedish military history, but I have always been fascinated by the growth of the Scandinavian kingdoms during the Middle Ages. I am particularly interested in medieval Swedish and Icelandic law books, and plan on focusing on comparison between them for my master's thesis.

Holly Frances McArthur (US)

Medieval and Renaissance Studies/French Literature, BA, New College of Florida, 2014

My undergraduate work focused on Medieval European History and French Literature, with a thesis on translations of the Tristan and Isolde story. I look forward to continuing to work with the Old Icelandic and Old Norse translations and original romances.

Jacob Ikaika Liphart (US)

International Relations, BA, Cornell College, 2016

My undergraduate degree was in International Relations with a focus on human rights issues. I studied Russian throughout all four years of my undergraduate study. I am currently interested in Norse Mythology and the Pre-Christian religious traditions of Scandinavia, and how saga literature influences modern interpretations of these beliefs.

Jan Martin Jürgensen  (Germany)

Scandinavian Studies, BA, University of Freiburg, 2014

I graduated with a major in Scandinavian Studies and a minor in History. My focus lies on the supernatural elements in saga literature, and I am specifically interested in the construction of Otherness in the texts. Other fields of interests lie in paleography and ideology in the sagas.

Jonathan Scott Foltz (US)

History, AA, University of West Florida, 2016
History, BA, University of West Florida, 2017

As an undergraduate, I studied general history including Medieval and Viking-Age Scandinavia in the context of the rest of Western Europe, Eastern Europe, and the Near East. I am primarily fascinated by Norse society, in particular the memetic concepts present in Norse mythology and culture and how they affect today.

Karl Thorolfr Troxell (US)

Anthropology/Archaeology, BA, Indiana University of Pennsylvania, 2016

As an undergraduate my training was in Anthropology and Archaeology. I am excited to be able to delve into the archaeology of Viking Age Scandinavia. Through this program I hope to supplement my knowledge with a deeper understanding of Nordic Material culture as it relates to religion, hopefully with a focus on household ritual.

Katherine Rose Vasquez (US)

Psychology, BA, University of Houston, 2017
History, BA, University of Houston, 2017

As an undergraduate, I concentrated on the social, cultural and religious aspects of medieval communities, as well as art and architecture at that time. As such, I am most eager to explore the early beliefs of Northern Europeans along with the nature of the shift toward absolute Christianity.

Kathrin Briana Gallagher (US)

English Language and Linguistics, BA, University of Nevada, Reno, 2017

During my undergrad, I studied Old English, Old Norse, and phonological changes from Old to Middle English. I am now delighted to have the opportunity to increase my knowledge of Old Norse culture and refine my Old Norse skills. I intend to look at more phonological changes for my master's thesis.

Kristine Mærsk Werner (Denmark)

Comparative Literature, BA, Aarhus University, 2017 

As an undergraduate in literature, I focused my work in the last couple of semesters on Old English and Old German texts (Beowulf and Niebelungenlied). For my BA, I focused on Sigurðr Fáfnisbani as a character in later texts. I am interested in the ongoing heritage after Christianity took hold, and how the traditions and stories have survived through generations, and still play a large role in Scandinavian society and nationality. I look forwards to delving into the diverse world of Old Icelandic manuscripts and sagas.

Kyra Kleinstapel (Netherlands)

Philosophy, BA, Leiden University, 2015
Scandinavian Languages and Cultures, BA, University of Amsterdam, 2016

I want to study the Nordic pagan world and its remains in later times, focussing on folklore and mythology. As language is the key, I hope to acquire an understanding, both synchronic and diachronic, of Old Norse as it is revealed in the runic inscriptions and medieval manuscripts.

Luca Arruns Panaro (US)

History, BA, University of New Mexico, 2016

Being interested in Germanic studies for some time now, I explored Germanic history, religion, and culture throughout my undergraduate studies whenever possible, and I studied Old English and translated Beowulf. In this program, I aim to elucidate the latent influences of Germanic culture in the modern West.

Lynn Kristin Schoenbeck (US)

History, BA, Western Connecticut State University, 2017

In my undergraduate work, I focused on studying subtle gender control through storytelling, histories, and art in medieval Scandinavia and Iceland. I am now eager to continue this work, as well as delve into Old Norse mythological themes and their connection to globally shared mythologies.

Madeleine Adele Hoofnagle (US)

Irish Studies, Certificate, University College Cork, 2016
Psychology, BA, The University of Iowa, 2017
Anthropology, BS, The University of Iowa, 2017

My interest in archaeology as a field started at a fairly young age, and it was through the pursuit of that interest that I discovered Viking studies. My research interests include gender roles in Viking society, feasting behavior as it relates to Old Norse religion, the importance of land and space to religion, spirituality, and gender, and communicable diseases among the Viking as evidenced by skeletal remains.

Mariateresa Esposito (Italy)

Swedish Literature, BA, University of Naples, 2015
Swedish Text Analysis and Literary Translation Swedish, MA, University of Naples, 2017

In my undergraduate and master, I focused on the study of the Eddic poetry, analysing in particular which were the recurrent mythological elements. I am eager to continue my work in this field. For my master's thesis here at the University of Iceland, I hope to work further on the themes of mythology in the Eddic material.

Meritxell Risco de la Torre (Andorra)

Modern Language and Literature, BA, University of Barcelona, 2017

I graduated in German studies focusing on the depiction of female characters in legends and/or mythology both in German and Old Norse sources. I am particularly interested in the Old Norse literary corpus, Norse mythology, and skaldic verse.

Olivia Elliott Smith (Canada)

Mediaeval Studies and Celtic Studies, BA, University of Toronto, 2014
Museum Studies, MA, University of Toronto, 2016

My undergraduate study concentrated on Medieval history and literature, while my graduate work introduced me to curatorial practice, material culture studies, and their effects on cultural representation. I am eager to bring these fields together to explore the perception of gender and women's work in the Medieval North.

Oriane Garault (France)

Archaeology and Art History, BA, Université Panthéon Sorbonne Paris 1, 2015
Archaeology, MA, Université Panthéon Sorbonne Paris 1, 2016
Archaeology, MS, Université Panthéon Sorbonne Paris 1, 2017

In my undergraduate work and master's thesis, I focused on European archaeology. Now I want to learn more about the emergence of the Viking culture, and I am hoping to work on the transition between Iron Age and Middle Ages in Scandinavia through settlements.

Pablo Hulsz (Mexico)

Psychology, Universidad Anahuac de Queretaro, 2016

I hold a bachelor's degree in psychology and in this programme, I intend to explore Old Norse literature with a psychoanalytic-based hermeneutic approach, while carefully examining the linguistics of it and/or comparing medieval Norse literature to the Pre-Christian Mexican anthology of myths and legends.

Paul Joseph Martino (US)

Egyptology, BA, Brown University, 2017

Although my bachelor's degree is in Egyptology, my undergraduate studies included coursework on medieval literature and archaeology. At Háskóli Íslands, I look forward to using anthropological and literary methods to explore the cultural and colonial ties between post-Commonwealth medieval Iceland and contemporaneous mainland Europe.

Rebecca Mae Mason (UK)

English Literature, BA, Durham University, 2017

Although my BA dealt with literature from a range of historical periods, I specialised in the Middle Ages, studying Middle and Old English as well as Old Norse. While I am looking forward to taking a more interdisciplinary approach to the Viking Age, my focus remains primarily literary.

Sarah Elizabeth Ganzel (US)

Art History, BA, Sarah Lawrence College, 2016

As an undergraduate, I worked on both early Icelandic paleography and Viking Age art history. I am looking forward to exploring the material culture of medieval Iceland and Scandinavia, particularly the paleography and illumination of medieval Icelandic manuscripts.

Shanly Kate Sullivan (US)

History, Dickinson College, 2014
History, BA, Fordham University, 2017

I became interested in the Vikings while studying history as an undergraduate. I hope to learn more about the historical aspect of the Viking Age, as well as medieval Norse literature.

Tonicha Mae Upham (UK)

Anglo-Saxon, Norse, and Celtic, BA, University of Cambridge, 2017

Following an undergraduate background in Anglo-Saxon, Norse and Celtic history, languages and literature, I developed an interest in mortuary archaeology which led to a dissertation on female burials in Viking Age Scandinavia. I wish to further this, exploring burial practices in conjunction with an examination of trading networks and practices.

Trevor Geoffrey Kieser (US)

Scandinavian Studies, BA, University of Washington, 2017

While working on my undergraduate degree in Scandinavian Studies, I found the representation of Viking Age peoples varied quite a bit. I am looking to focus on memory studies in relation with Old Norse Studies and what their image means for us today.

William Brooks Bechtel (US)

History, BA, Franklin & Marshall College, 2014
Medieval History, MS, The University of Edinburgh, 2015

For my last degree, I studied differing narratives on the conversion of Iceland. Now I hope to discover in more detail the role Christianity played in changing Northern European language, politics, and society in the Middle Ages.

Zachary Aaron Cole (US)

History/Anthropology, BA, University of Texas at Austin, 2017

The study of military history and archaeology constituted the lion's share of my undergraduate coursework. Moving forward, I intend to focus my academic efforts on studying the historical accounts and material culture associated with the Norwegian Crusade and Viking activity in foreign courts, such as the Varangian Guard of Byzantium.