The "Icelandic Lopapeysa" is a registered trademark, according to a ruling by The Icelandic Food and Veterinary Authority. The Handknitting Association of Iceland was the applicant, along with other vendors and the application was based on the academic writings of Ásdís Jóelsdóttir, lecturer in textile and design at the School of Education's Faculty of Subject Teacher Education.
Ásdís has studied the origins, history and design of the Icelandic Lopapeysa for years and issued a peer reviewed publication on her research in 2017. Ásdís, who has also been the spokesperson for the applicants, says this is a vital step for all knitters, designers, and producers of the Icelandic Lopapeysa. "It is an all Icelandic design originating in knitting and pattern traditions from the middle of the 20th century, but with roots in traditional Icelandic knitting techniques, and its pattern prototypes date many centuries back," says Ásdís.
The Icelandic Lopapeysa has become increasingly more popular in recent years, not least due to the number of tourists visiting the country. IMAGE/The The Handknitting Association of Iceland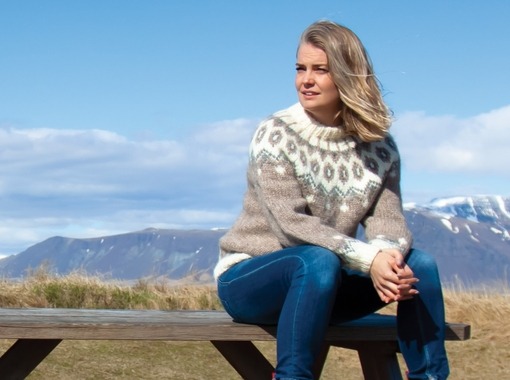 The application of the Handknitting Association of Iceland shows that sales and demand for the Icelandic Lopapeysa has increased considerably, and tourists are very interested in it. The registration of the trademark is thus an important step in ensuring the authenticity (traceablilty) of the sweater, to know that it is really made of Icelandic wool and handknitted in Iceland.  
The main criteria for a sweater to be "Icelandic Lopapeysa" are:
1.    The wool used in the Icelandic Lopapeysa must be sheared from Icelandic sheep. 
2.    The wool used in the sweater must be new wool; i.e. not recycled. 
3.    The sweater must be knitted with wool; such as un-spun Icelandic lopi wheels, léttlopi or Álafoss lopi. 
4.    The sweater should have a patterned yoke, worked in the round. 
5.    The sweater must be handknitted in Iceland. 
6.    The sweater must be knitted in a ring without stitches (not assembled). 
7.    The sweater must be open or whole.