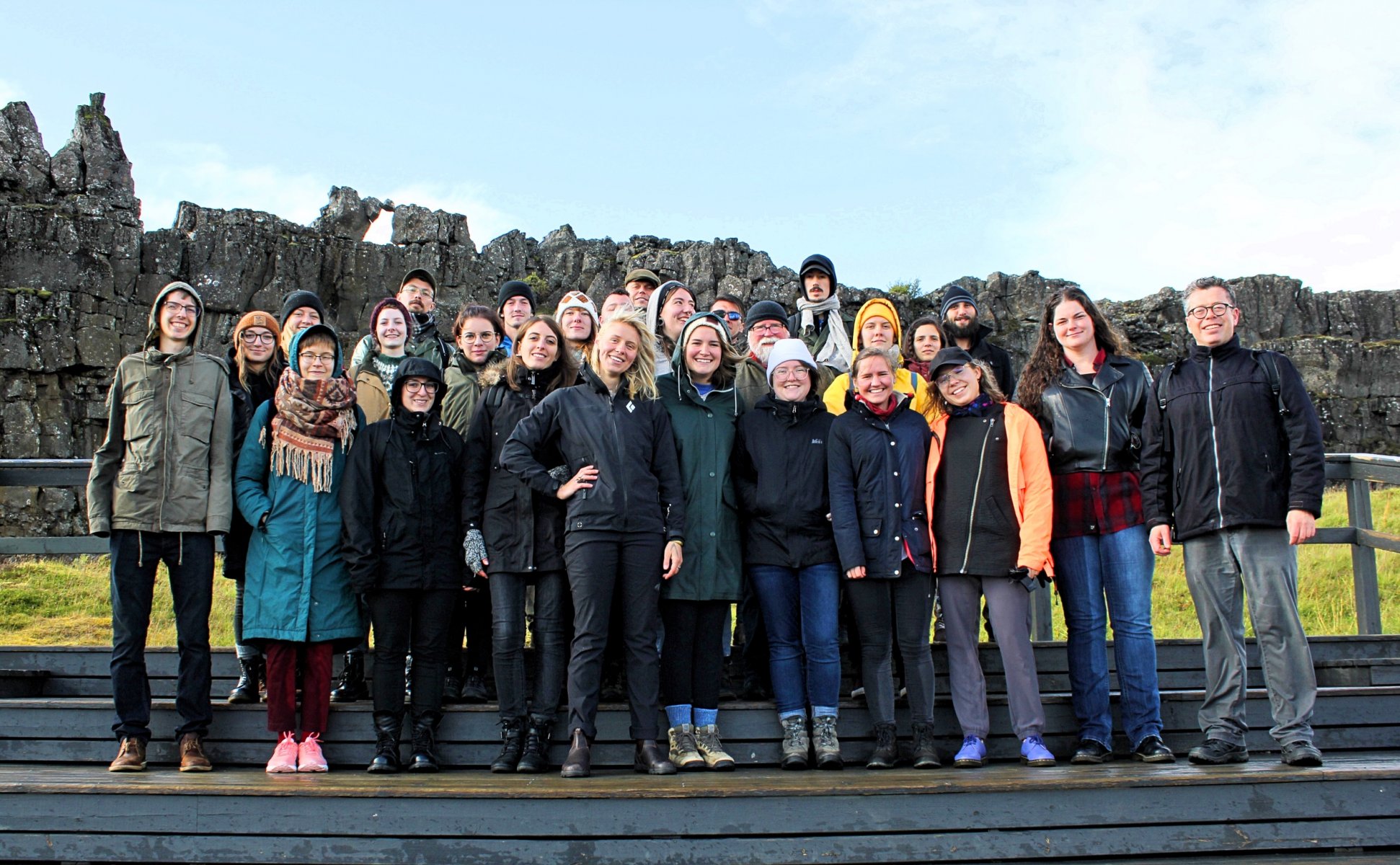 At Lögberg in Þingvellir National Park.
The Medieval Icelandic Studies Programme (MIS) is a three-semester graduate programme resulting in an MA degree in Medieval Icelandic Studies from the University of Iceland. The credit system at the University of Iceland is the European Credit Transfer and Accumulation System or ECTS. Full-time studies for one academic year count as 60 ECTS credits, 30 ECTS credits each semester.
The Medieval Icelandic Studies is a 90 ECTS credits' master's programme. The first two semesters consist of 60 ECTS credit hours of course work. The third semester is reserved for writing a 30 ECTS master's thesis. Ideally (but not necessarily), the third semester is a summer semester, enabling the completion of the programme in approximately 13 months (August–August) with graduation in October. 
| | | |
| --- | --- | --- |
| 1st semester (autumn) | course work | 30 ECTS |
| 2nd semester (spring) | course work | 30 ECTS |
| 3rd semester (summer) | master's thesis | 30 ECTS |
In addition, students will have the opportunity to take summer courses in subjects such as Modern Icelandic, manuscript studies, and archaeology.
Three separate faculties at the University of Iceland participate in the programme and offer courses and thesis supervisors: The Faculty of Icelandic and Comparative Cultural Studies, The Faculty of History and Philosophy, and the Department of Folklore Studies at the Faculty of Social and Human Sciences. The Árni Magnússon Institute for Icelandic Studies is a research institute that houses a large collection of Icelandic medieval manuscripts, visual and oral documents, as well as a research library in medieval studies that will be open to students in the programme. The staff of the institute provide assistance and participate in teaching and thesis supervision.
More information - Medieval Icelandic Studies