Fadi Kizel, PostDoc at the Engineering Research Institute 
"Iceland is exposed to rapid and dynamic landscape changes caused by natural processes and man-made activities, which impact and challenge the socio-economic situation of the country. Fast and reliable mapping and monitoring techniques are needed on a big spatial scale with a high temporal resolution ", says Fadi Kizel, Post Doc in electrical- and computer engineering who participates in the excellence project "Environmental Mapping and Monitoring of Iceland by Remote Sensing(EMMIRS)," the project's goal is to establish a remote sensing centre at the University of Iceland. 
Remote sensing concerns digital photography from airplanes and satellites at various resolutions, and extraction from them a variety of data concerning the Earth's surface. Processing such data is not a simple matter and therefore methods have been developed by the University's scientists alongside the collection and work on remote sensing data. 
 
Fadi Kizel
"The project gives a good chance to develop and implement novel technology for mapping and monitoring, with a special focus on the geology and ecology of Iceland."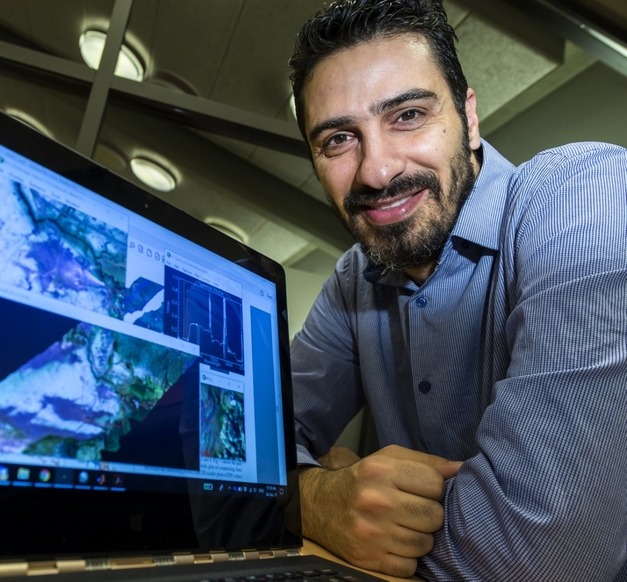 Remote sensing has been used in Iceland to follow changes in sea ice, vegetation, and glaciers, however, the EMMIRS project has volcanoes as its focal point. The aim is to collect data connected with changes in landscape around Mount Hekla and Öræfajökull Glacier; scientists have warned that the former is in the preparatory stages for eruption, and disturbances were noted in the latter in November 2017. Fadi points out that a revolution has taken place in satellite technology, and remote sensing, making it possible for scientists to acquire vast amounts of data for large areas, over a long time at various frequencies. "In the excellence project EMMIRS the goal is to bring Iceland into the international forefront by bridging this gap between advanced information processing capabilities and the mapping of the Icelandic environment. My research aims to develop new algorithms and technical solutions enabling us to analyse and automatically extract geographical data using the methods of remote sensing."
The project involves an interdisciplinary group of scientists and students at the University of Iceland, from the fields of remote sensing, geography, geology, and environmental and natural resource science. The project is supervised by Gro Birkefeldt Møller Pedersen, PosDoc at the Institute of Earth Sciences. 
This interdisciplinary approach was what attracted Fadi to the project. "The interplay of the theoretical and practical in the project along with the mix of laboratory- and fieldwork impacted my decision to participate in the project," he says and adds: "The project gives a good chance to develop and implement novel technology for mapping and monitoring, with a special focus on the geology and ecology of Iceland."