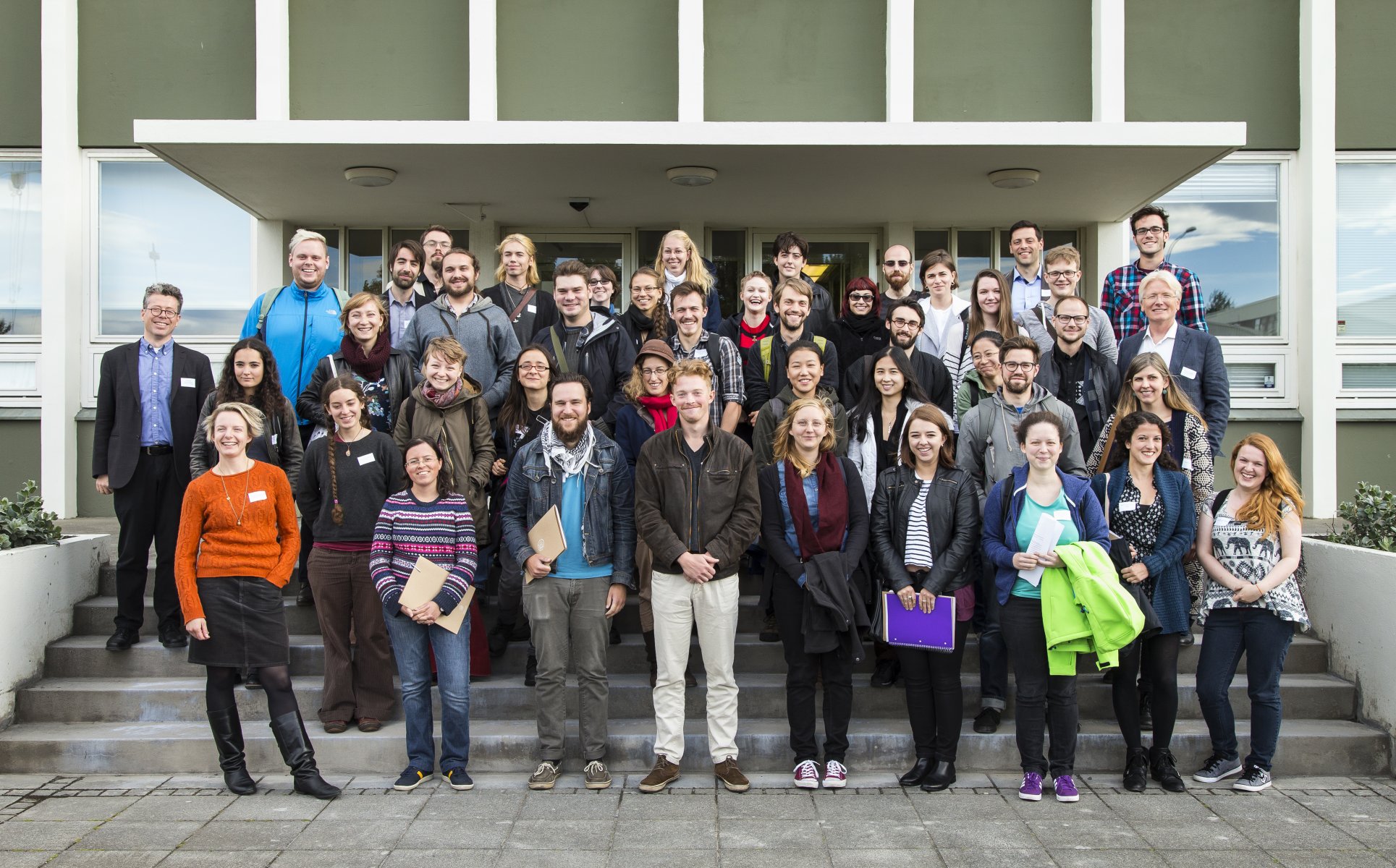 Orientation meeting August 28, 2015.
Aleksi Nicolas Moine (Finnland)

Classics, BA, University Paris IV – Sorbonne, 2012
Classical and Digital Humanities, MA, University Paris Ouest – Nanterre, 2015
Finnish language, MA, INALCO, 2015

My academic path, which started in the Mediterranean, with Latin and Ancient Greek, focusing on mythology, anthropology and history of religion, led me then to Northern Europe. I did an MA in Folkloristics, about Finnish charms, before coming to Iceland to broaden and deepen my understanding of the history of Nordic countries, wishing to study the mutual influences between Finnish and Scandinavian cultures.

Ágnes Viktória Jávorszky (Hungary)

English Studies, BA, Eötvös Loránd University, 2015

As an English major, I got a good insight into English linguistics and did complete courses in Swedish (my main Scandinavian language), Norwegian, and Danish linguistics as well as in the history of Scandinavian languages.

Barbora Davídková (Czech Republic)

History and sciences of religions, BA, University of Neuchâtel, 2015

As an undergraduate, I studied history of religions, history and archaeology, and I especially enjoyed doing a small research on seiðr. I intend to continue in these fields, and I am now eager to explore more deeply religious matters, as well as gender issues.

Benjamin Eric Holt (US)

German Literature, Bachelor of Arts, Brigham Young University, 2014

My undergraduate emphases were Germanic and Scandinavian literature and linguistics. I'm interested in exploring the medieval origins of these and examining how the medieval texts and languages of the the North influence and interact with our contemporary cultural canon.

Benjamin Shea Collis Sibley (US)

History, and Asian Studies, BA, University of Massachusetts, Boston, 2015

Chelsea Grosskopf (US)

English Literature/History, BA, University of North Texas, 2012

My undergraduate work involved both Literature and European History with a focus on Medieval Europe. I am eager to learn about the history aspect of the Viking Age with a specific interest in politics and warfare.

Chihiro Larissa Tsukamoto (Japan)

Political Science, BA, Columbia University, 2015

Coming in with a background in classics, political science, and the performing arts, I am most excited to be able to study Norse mythology. For my master's thesis, I plan to research the intersection between runes and ritual in Nordic religion.

Colin Grant Hirth (US)

Medieval Studies/History, BA, Pennsylvania State University, 2015

As an undergraduate I pursued a degree both in Medieval Studies and History.  During this period I focused on medieval society and mindset.  For my master's thesis I look forward to investigating Medieval Icelandic social interactions in which the role of cultural and societal norms propelled individuals to act violently or peacefully.

Colin Scott McKinstry (US)

History and Anthropology, BA, Miami University, 2014

In my undergraduate studies, I focused on archaeology and the Viking Age in relation to models of diaspora. I look forward to engaging more with the Old Norse literary tradition in addition to gaining a deeper understanding of syncretic material culture in the Medieval Norse world.

Daria Glebova (Russia)

Philology, BA, Higher School of Economics, 2015

While studying Old Russian Literature and Language, I became a big fan of the medieval narrative itself. Thus, within this program, I am interested in the Old Norse literature narrative stratagies, especially in cases with the interaction of historical facts and fiction. Also I am eager to learn about paleography, text criticism, runology and epigraphy.

Daria Segal (Israel)

Photography, BFA, Bezalel Academy of Arts and Design, 2012

Coming from a History of Art background, I believe that art objects can provide meaningful insights to historical analysis. With a deep passion to the region and its culture, I was looking for a program with an interdisciplinary approach to deepen my exploration of art and history connection from multiple perspectives.

Emily Hoffman Beyer (US)

English Literature, BA, University of Washington, 2002
Poetry, Masters of Fine Arts, University of Iowa, 2005
Icelandic as a second language, University of Iceland, 2014

As a poet, I began learning Modern and Classical Icelandic to support a poetry project. My research interests include mythology and folklore, oral poetry, meter and kenningar, verbal arts and shamanism, and poetry derived from otherworldly experiences in the sagas. I hope to write my thesis on the Eddic poems.

Ermenegilda Rachel Müller (Switzerland)

History of Religion/History and Civilization of the Middle Ages, BA, University of Geneva, 2013
History of Religion, MA, University of Geneva, 2015

During my undergraduate studies in medieval history, I discovered the universe of the Icelandic sagas and developed a keen interest for them, so I came here in order to learn more about their language and cultural context.

Fraser Lucas Miller (Canada)

History, BA (Hons), Queen's University, 2014

Although in my undergraduate work, I studied History and Drama, for my Master's thesis I am hoping to examine how aspects of Old Norse culture, religion, etc. encouraged and facilitated the exploration that took place and what elements from these factors helped make the Norsemen so proficient at it.

Grayson Del Faro Stocks (US)

English, BA, The Evergreen State College, 2012

With my academic background in literary theory and travel writing, I intend to research medieval poetics. My interests range from the digitization and preservation of medieval manuscripts to the translation and interpretation of Old Icelandic poetry, especially as it relates to travel and exploration in the skaldic tradition.

Hannah Lois Lomas (UK)

Social Anthropology, BA (Hons), University of Kent, 2012
Archaeology, N/A, University of Aberdeen, 2015

My educational background didn't actually cross into the Medieval Norse domain, but I developed an interest in the concept of historicity. I'm curious to explore the continued significance of the Icelandic literary corpus & notions of the mythical past in identity formation for modern Icelanders.

Jacquelyn Ward (US)

History/Historiography and Literature/Alternative Historical Narratives, BA, Marlboro College, 2012

As an undergraduate I studied the ways in which humans engage with the past through story, belief, and experience. I am joining the Viking and Medieval Norse Studies program in the hopes of gaining further training in interdisciplinary history and to look at how landscape, myth, and history influence our connection to place.

Jason Anthony Hash (US)

European Studies, BA, Double Minor in Anthropology and Medieval Studies, Portland State University, 2015

I come to this programme with a strong background in Medieval religious studies and Northern European history. My research interests are rooted in paleography, codicology and syncretism through examining sigils and symbols in Icelandic manuscripts as a vital record regarding the intersection of deviant religion and cultural identity from the 13th through the 18th century.

Jensen Connor Scheuer (Canada)

Medieval Studies, BA, University of British Columbia, 2015

Within Medieval Studies, I specialized in the history and languages of Northern Europe and the Middle East. As a graduate student, I intend to transition into Viking Age archaeology and probe the mysteries hidden beneath our feet.

Jesse Benjamin Barber (US)

History, Associate of Arts, Grand Rapids Community College, 2011
History and German, BA, Western Michigan University, 2014

As an undergraduate, I studied Pre-Modern European history and German. I am excited to begin studying Pre-Christian Scandinavian religion. For my master's thesis I hope to compare and contrast Medieval Icelandic Christianity with Icelandic Paganism.

Jessica Pipping (Germany)

Scandinavian Studies, BA, Ernst Moritz Arndt-University, 
Language and Literature (Nordic), BA, Volda University College, 2015

As an undergraduate, I studied Scandinavian and English literature. In my graduate studies I want to focus on Old Norse literature and explore the Old Icelandic language.

Karin Fjäll Murray-Bergquist (Canada)

Social Anthropology and French, BA, Dalhousie University, 2013

After a varied undergraduate study with an emphasis on the interactions between people and places, I intend to focus on the perception of nature in early Scandinavia, particularly in regard to how this was influenced by sea travel and contact with other lands and people.

Katharina-Lorraine Malchow-Roth (Germany)

History and Cultural Anthropology, BA, Friedrich-Schiller-University Jena, 2015

I graduated in medieval history focusing on the settlement of Iceland and social networks in Iceland before and after Christianization. Now I am delighted to work with manuscripts and to learn Old Icelandic. My scholary interest is the comparative analysis of Old Norse religion and tradition as contrasted with present-day enthusiasts.

Kristen Mercier (Canada)

History, BA (Hons), Queen's University, 2015

In my undergraduate I focused upon medieval history, with attention to religious interactions between early Christianity and paganism, as well as Christianity and Islam. I am hoping to gather a better understanding of the Christianisation of Scandinavia through primary source materials. More specifically, I hope to look at how the Sagas (especially the fascinating Family Sagas) deal with Nordic traditions and beliefs.

Kathryn Ania Haley-Halinski (UK)

English Literature & Language, BA, King's College London

As an undergraduate I concentrated on Old English and Middle English literature, and now I aim to look at similarities and differences between medieval Scandinavian and English cultures. I'm particularly interested in the representation of animals and nature, concepts of the non-human, cultural memory, and ideas of place.

Lan Wang (China)

History, BA, Peking University, 2015
International Politics, Bachelor of Law, Peking University, 2015

As an undergraduate, I majored in International Politics, which has little connection with Old Norse, but I have been interested in mythology for many years and I intend to work on Old Norse mythology in my master's thesis.

Selene Mazza (Italy)

Foreign Languages and Literatures, BA, University of Pisa, 2013

I come from a Languages and Linguistics background and my studies in Germanic Philology, together with my passion for the Viking Age, are what brought me to the Viking and Medieval Norse Studies program. Beside getting a deeper linguistic knowledge of Old Icelandic and its literature I'm particularly interested in archaeology, Norse mythology and beliefs, palaeography and Anglo-Viking studies.

Tenaya Paige Jorgensen (US)

 

– Pre and Early Modern Literature, BA, University of California Santa Cruz, 2011

I graduated from University of California Santa Cruz with a degree in Medieval and Renaissance Literature. In Iceland and Norway I'm excited to delve further into Medieval History with an emphasis in Archaeology.

Viktória Gyönki (Hungary)

History, MA, Károli Gáspár University of the Reformed Church, 2009
Icelandic as a second language, Practical Diploma, University of Iceland, 2015
History, PhD, Eötvös Loránd University, expected 2016

During my undergraduate studies I was focusing on history and folklore. My MA thesis was dealing with the history of society of early medieval Scandinavia, with a wide perspective on both the continent and Iceland. After some years of reserch for my PhD, I still want to expand my knowledge of Scandinavian languages, literature, and manuscript studies.

Zachary J Melton (US)

English, BA, Indiana Wesleyan University, 2007
Viking Studies, certificate, University of Highlands and Islands, 2014

In my undergraduate work I studied English literature. Only after graduating did I become interested in Medieval Norse studies, reading and studying on my own. I studied for one semester online through the University of the Highlands and Islands where I received a certificate in Viking Studies. I am looking forward to studying the affects the Sturlunga Age had on the Icelandic literature.