Disability Studies have been taught as an independent academic programme at the University of Iceland since 2004. Prior to that a small group of scholars had been teaching and researching disability using the social, cultural and human rights approaches central to Disability Studies.
The Department of Disability Studies is currently located within the Faculty of Sociology, Anthropology and Folkloristics in the School of Social Sciences.
It offers MA and PhD programmes as well as a Graduate Certificate in Disability Studies. Core courses taught include theories and perspectives in disability, historical and cultural representation of disability, life course approach to disability and the intersection of disability with other social categories. Emphasis is on interdisciplinary work and intersectional approaches.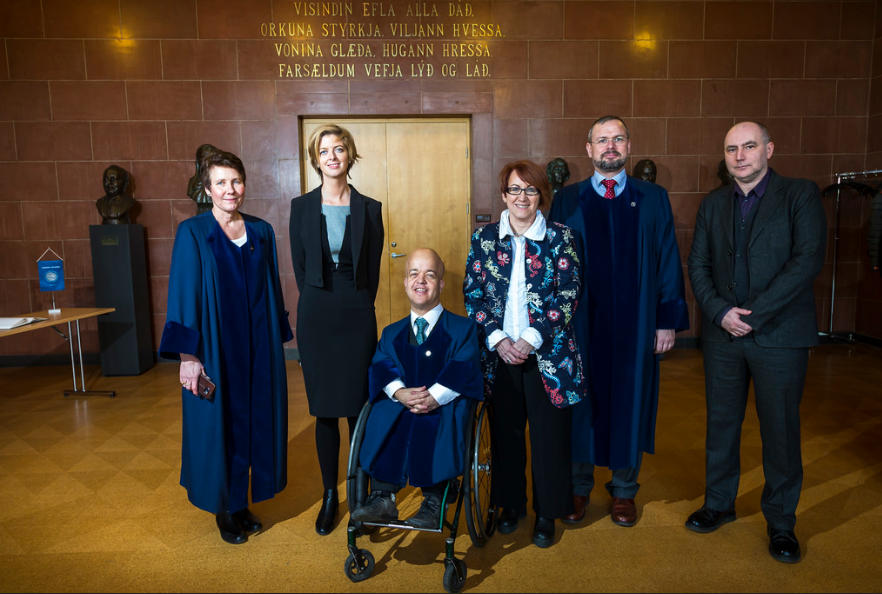 The PhD Programme in Disability Studies
Total of 210 ECTS credits must be completed for the qualification of the PhD programme in Disability Studies. A PhD thesis at the department is 180 ECTS credits and mandatory courses in the theory and research area are 30 ECTS credits. In addition, candidates may be required to take up to 60 ECTS credits in preliminary courses if it is considered necessary to enhance the student's knowledge in the field of disability studies or for her/his research project. The entrance requirements for the PhD Programme is an MA degree (honours) or an equivalent degree.
The main research activities are conducted within the Centre for Disability Studies which operates in close collaboration with the academic study programme. The Centre is a vibrant research centre with a multidisciplinary group of scholars, researchers and PhD students, generating knowledge at the forefront of the disability studies field and in an international context and collaboration.
There is a strong commitment within the programme to collaborate with disabled people and the disability movements, including parents' organisations. Disabled people are among regular guest lecturers in the programme's core courses and MA students are encouraged to conduct participatory or collaborative research. The strong emphasis on working with the community also reflects in the topics and research literature that is being used in the courses.
The programme emphasises an individual student-centred approach. This is also reflected in the assessment. Thus, in many of the courses emphasis is on independent assignments which provide the student with an opportunity to apply their newly acquired knowledge to their specific area of interest.  Examples are childhood disability, employment, empowerment and independent living.
Reflecting the strong interdisciplinary focus of the programmes, each of the full-time academic staff has their own specific research interests and area of expertise covering the most common research areas within Disability Studies covered. Occasionally, MA students are invited to take part in teachers´ research as part of their MA project. With regard to PhD students, there is a strong collaboration between them and the faculty when it comes to research and writing.
Teachers, researchers and doctoral students in Disability Studies