The public health measures put in place to handle the COVID-19 pandemic had many direct and indirect consequences for the health and well-being of young people. Eva Jörgensen, PhD student in anthropology at the University of Icelnad, is currently working on a research project entitled "The impact of the COVID-19 pandemic on adolescents aged 12-17," says that a lot of the pandemic response was excellent, but that perhaps more effort should have gone into considering young people's perspectives and communicating effectively with them. In an interview with a journalism and mass communication student at UI, she discussed her research, the inspiration behind it, her methods and her findings.
How did you get the idea for this research and how is it going? 
Originally I had planned to travel to Greece to research the health behaviour of LGBT women in Greece and the accessibility of healthcare, but the COVID-19 pandemic disrupted those plans. So I decided to turn my attention to this topic instead.
I started planning the project in the summer of 2020, then I began interviewing people who work with adolescents, such as teachers and healthcare professionals. The next summer I started interviewing teenagers. The pandemic has caused various delays but everything is on the right track and I hope to finish the project in about 18 months.
What methods did you use in your research?
I used questionnaires as well as individual interviews. I have also been collecting data on government policy during the COVID-19 pandemic – what measures were taken and how they developed over time. I am also planning to use data about the well-being of adolescents during the pandemic. So I have general data to give the study breadth, as well as individual interviews that give it depth and provide different perspectives.
Are you looking exclusively at the impact in Iceland, or are you planning to compare the situation between different countries?
To start with I am concentrating on Iceland, but following on from this study I do want to place my findings in an international context. I am applying for a grant to fund a joint research project with other Nordic countries, which would be a comparative study leading on from this study. This could be very interesting, because the Nordic countries took very different approaches with their pandemic responses.
Feeling lost after the lifting of restrictions
Are you looking at the impact of the disease itself or the public health restrictions?
Both really, but first and foremost the restrictions, because they were more significant than the disease for children and teenagers. Government policy during the pandemic had a huge impact on the daily lives and well-being of young people. For example, in Iceland we decided to keep schools open for the most part, but the measures implemented still caused major disruption to teenagers' lives. There have been a lot of delayed and hidden consequences that did not become apparent until after the pandemic. The biggest impact was from closing upper secondary schools. This directly and indirectly affected all three sides of the health triangle: social, mental and physical.
The success of public messaging was also hit and miss. We had these daily briefings that most people followed and we also created material to keep the youngest children informed, which was all very well done, but teenagers were somewhat overlooked. It was as though people assumed they would understand everything in the information briefings, but teenagers are actually telling me they had no idea what was going on.
They experienced a lot of uncertainty around the public health measures and ended up trying to avoid the issue. Then when all restrictions were lifted on 25 February, they say that they did not feel prepared for that. All at once everything was normal again, but they felt they needed to make the transition gradually and found it hard to adjust to their old lives again.
Can you share any of your findings already?
It's still a work in progress, but perhaps the connecting theme is that we need to be more careful about the uncertainty involved in these public health measures. In the early days of the pandemic, parents were more anxious than teenagers, but when schools started closing the kids realised that this was a more serious issue than they had first thought. They found it difficult to follow the information briefings and keep up with the rapidly changing rules.
As we know, teenagers spend a lot of time on social media, which was giving them all kinds of misleading information about the pandemic and it was difficult for them to filter those messages. They weren't looking at covid.is – they were relying on second-hand information from their friends or parents. And then they had trouble adjusting after everything was lifted. They spent a lot of time on social media during the pandemic and some found it hard to stop once normal life resumed. Many young people said that they found it harder to concentrate at school, which was also something that I heard from teachers.
"A basic principle in the UN Convention on the Rights of the Child is to ensure that children and teenagers are consulted on decisions about issues that affect their daily lives. Their voices should be heard, but often policy that affects children is made without their input. It is not always easy in an urgent situation, but it is important," says Eva.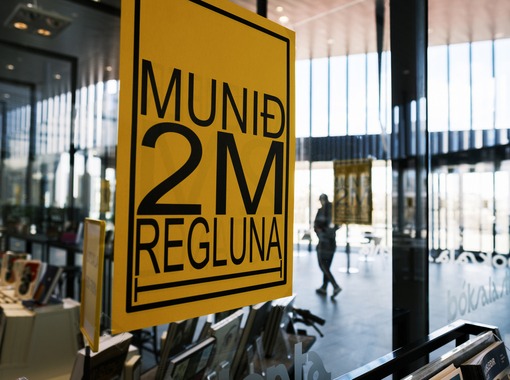 More support for teenagers needed
Something else we are seeing is that a lot of the negative effects are only becoming apparent afterwards. When we go through a difficult situation, we are just focused on short-term survival, but once we get out of that situation we experience a sense of anticlimax and then the negative feelings come through: anxiety, low self-esteem and depression. These problems are nothing new. They are underlying issues that we were already dealing with before the pandemic, but they have got worse. Young people might need more support in the wake of the pandemic, but our systems do not necessarily have the capacity for that. We need to respond to that and think about preventative measures as well as interventions.
How successful was distance learning in schools?
That varied considerably, both from school to school and also between individuals. Some of my interviewees had a lot of trouble staying focused on their studies and maintaining concentration. Others did really well. Teachers also had varying levels of success. Teachers tried to be accessible, but after a while it became tiring and some students simply didn't have the facilities they needed for 'home learning'.
With hindsight, is there anything we could have done differently with the pandemic response?
A basic principle in the UN Convention on the Rights of the Child is to ensure that children and teenagers are consulted on decisions about issues that affect their daily lives. Their voices should be heard, but often policy that affects children is made without their input. It is not always easy in an urgent situation, but it is important.
Although much of the pandemic response was excellent, here there was room for improvement. However, we did very well to keep schools open as long as possible, since reports are now showing that this was the optimal solution.
We also need to give more thought to children aged around 14-15 who maybe won't admit that they don't understand information briefings, but actually can't completely follow them. We need to share information through the social media platforms used by teenagers in order to communicate more effectively with this group.
So those are probably my main recommendations: to include children and teenagers in decision making and to communicate with them better in order to minimise uncertainty.
Author of the article: Jean-Rémi Chereyre, journalism and mass communication student at UI.